| | |
| --- | --- |
| Black River Barn Restaurant | |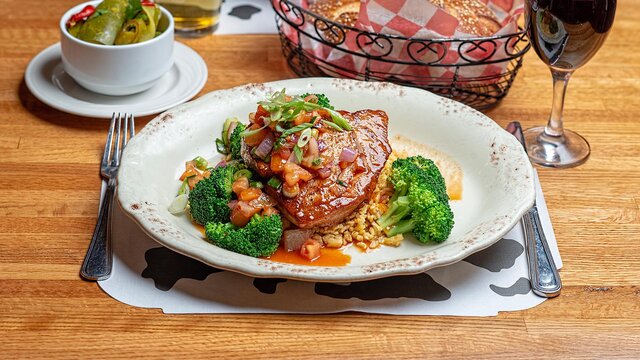 Primary Cuisine:
Family Dining
What The Heck Is Barn Cuisine?

It's food and caretaking with heart and soul in it. It's honest, vibrant and straightforward, nourishing, simple and kind. It has its roots in the home kitchens of real people, salt-of-the-earth people, in Everytown in Everyland. It's full of wisdom, the kind the wind and rain teach a farmer with each journey through the seasons. It's fresh and inspired and inspiring, crisp and clean and brightly colored, because we hand-pick its ingredients with care and store and prepare them right, and we present it all with the touch of an artist. Or maybe a grandmother. It gives a lot you a lot to choose from, comfortable standards, out-on-a-limb adventures, and lots in between.

Its nutritionally sound ... we watch the cholesterol and the sodium, skip the fat where we can, use whole foods instead of processed ones, retain vitamins through mindful cooking and put harmony and balance in our meals. We heap a full plate that energizes you instead of weighing you down. And it's casual and comfortable, with a casual, comfortable, price tag.

For years now, our guests have been teaching us what people want, and we've listened and learned well. Now we've taken the sum of our harvested experience and brought it out here to stake our claim in Randolph. We know that only long, hard, work builds a Barn that last, so we work a farmer's day, from dawn till long after sun has sunk in the Western sky. We don't take short-cuts, and our handiwork is some-thing we're proud to sign our name to. It's with confidence and great expectations that we present to you our "Barn Cuisine". We'd like to see you often, with your families and friends, coming in hungry and leaving well-fed and happy.

Make Yourselves At Home and Thanks for Comin' Over. It's Good To Have You!
Quick Links
Details

Atmosphere

Casual

Handicap Accessible

Yes

Liquor License

Yes

Parking

Parking Lot

Price

Under $15

Reservations

Accepted

Smoking

No Smoking

Take Out

Yes
Cuisines Available

American
Bar & Lounge
Bar and Grill
Brunch
Burgers
Coffee and Desserts
Continental
Family Dining
Gluten Free
Italian
Pasta
Pizza
Salads
Sandwiches
Seafood
Soups
Sports Bar
Steaks
Steaks and Chops
TakeOut
Vegan
Vegetarian
Serving

Banquets
Brunch Sunday
Corporate Functions
Dinner
Late Nite
Lunch
Private Parties
Wedding Receptions