| | |
| --- | --- |
| Dimora Ristorante & Bar | |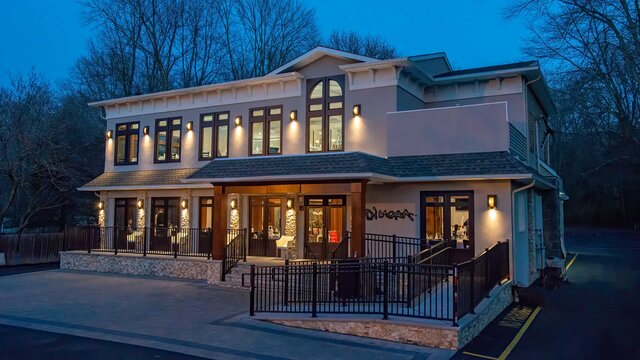 Dimora is a superb Italian restaurant, and in my opinion of one of the finest of its kind. Chef Gino is a genius cook; his cooking style is artistic and explosive and he only uses the finest and freshest ingredients. We always find Dimora a warm, welcoming place where every customer who enters is embraced by a hospitable and friendly staff. Dimora embraces a family atmosphere with papa's cuisine, and the European interior design and artwork make the surroundings relaxing and emit a comforting ambiance.
Gino's magical techniques possess a way to satisfy each and every customer's palate without diminishing the quality of the traditional Italian cuisine; he just adds his own originality to every plate. I can definitively say that in my travels to different countries, searching for and experiencing fine cuisine, what I found satisfies me the most is closer to home. Dimora represents fine Italian dining, those that appreciate delicious food paired with a relaxing atmosphere will adore dining at Dimora. My favorite plate is the "Pasta Diablo", lobster, shrimp, and clams embedded with fresh tomato sauce over fresh linguine. The seafood is cooked perfectly and the spices create the final touch, only Gino knows how I like it best.
At Dimora elegance meets fun and creates an environment where the young and old come together to eat intricate yet traditional Italian meals, toast excellent imported wines and unwind by the cozy bar.
With 1920's flapper themed glass murals, rich colors sprinkling the restaurant and dark wood spanning the restaurant, you'll feel like you are at home, but in the company of your closest friends.
Dimora Restaurant has a sophisticated and subdued look with an expansive atmosphere of crisp white table linens against soothing mahogany wood floors. The Dining area spills into a romantic yet lively little nook and bar area excellent for just a quick after work drink or an aperitif to work up your appetite.
The colorful ambiance makes Dimora a favorite hangout, a flavorful dining room and a place to celebrate.
Quick Links
Details
Cuisines Available

Coffee and Desserts
Italian
Pasta
Salads
Shellfish
Soups
Serving

Banquets
Corporate Functions
Dinner
Lunch
Private Parties
Wedding Receptions