| | |
| --- | --- |
| Vila Nova do Sol Mar | |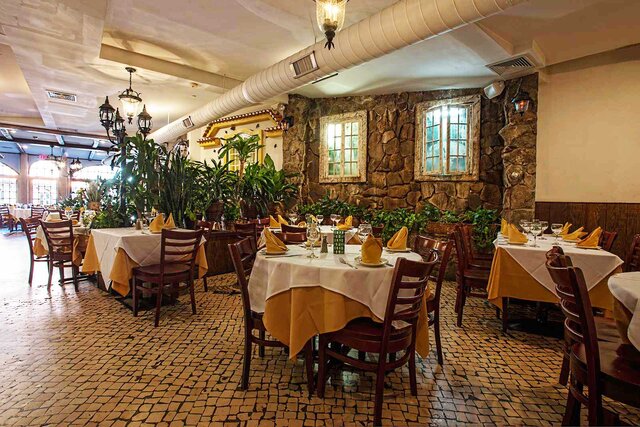 Primary Cuisine:
Traditional Portuguese
Experience the authentic taste of Portugal!
The culinary pleasures of genuine homestyle Portuguese cuisine await you and your guests at "Vila Nova do Sol Mar". Located in the heart of Newark's historic Ironbound section, Vila Nova do Sol Mar offers custom preparation of fresh fish, seafood and steaks, as well as original "creations" of chicken, beef and pork. Coupled with our sumptuous dessert selections and a variety of the coffees and after dinner drinks, there just isn't' a finer way to experience authentic Portuguese cuisine.
From the moment you walk through the castle-style entrance, you are instantly transported to another place and time. Embraced by the rich colors and historic décor of old-world Portugal, your eyes are immediately riveted to the handset stonewall calcada floor embroidered with assorted images. Among the original renderings are traditional Portuguese foods, an 18th century explorer's flag, an anchor, and a navigator's star – all uniquely designed to provide a nostalgic feel of being on the other side of the ocean. Once inside, the atmospheric lighting is set by a group of classic, freestanding street lights. Behind a series of bay windows that cover the entire perimeter, and array of original paintings, artwork and portraits offer a nostalgic glimpse of Portuguese life.
Despite the ambience and décor, however, the real highlight is the food. Rich, robust, and flavorful are inadequate descriptions of the exquisite menu selections awaiting your taste buds. Serving sumptuous portions of premium cuts, all aged to perfection, every dish is made to order in an open Mediterranean kitchen by a skilled tem of culinary professionals with preparation techniques practiced by the great chefs of Europe. Also, to compliment any meal, our wine list boasts an extensive array of classic Portuguese selections.
A trip to Vila Nova do Sol Mar is a true culinary journey. Comfortable and fostering a family-oriented atmosphere Vila Nova do Sol Mar offers a memorable and unique opportunity to savor the "flavor" of a genuine and authentic Portuguese dining experience. Our team of professional servers awaits your arrival and is disciplined to provide a level of personal and attentive service uncommon in most restaurants. Serving lunch and dinner daily, Vila Nova do Sol Mar is also an excellent choice for private or off-site catering.
Conveniently located in the heart of New Jersey's largest city, we are neighbors to some of the best cultural, historic, and popular attractions our state has to offer and are only 20 minutes away from downtown New York. And, afterwards you and your guests can experience the sights, sounds and flavors of a stroll down historic Ferry Street. There you will find a world of shopping adventures, all with the flavor and ambience of a real Portuguese community.
At Vila Nova do Sol Mar, we recognize that the "little things" can make or break a dining experience. More important, we understand the critically important role a pleasurable dining experience plays in separating success from failure. On behalf of our family, staff, and cordial neighbors, it is with immense pride and confidence that we invite you and your guests to visit and take in the many offerings of Newark's Ironbound community and Vial Nova do Sol Mar. From our family to yours, we promise your trip will be enchanting, exciting, and truly unforgettable!
Parking is available
Give us a try. We may not be the biggest…but we believe we're the best!
Quick Links
Details

Atmosphere

Upscale

Handicap Accessible

Yes

Liquor License

Yes

Parking

Yes
Parking Lot


Price

$15 - $22

Reservations

Recommended
Yes


Smoking

Both

Take Out

Yes
Cuisines Available

Bar and Grill
Coffee and Desserts
Family Dining
Pasta
Portuguese
Sandwiches
Shellfish
Steaks and Chops
TakeOut
Vegetarian
Serving

Banquets
Corporate Functions
Dinner
Lunch
Private Parties
Wedding Receptions